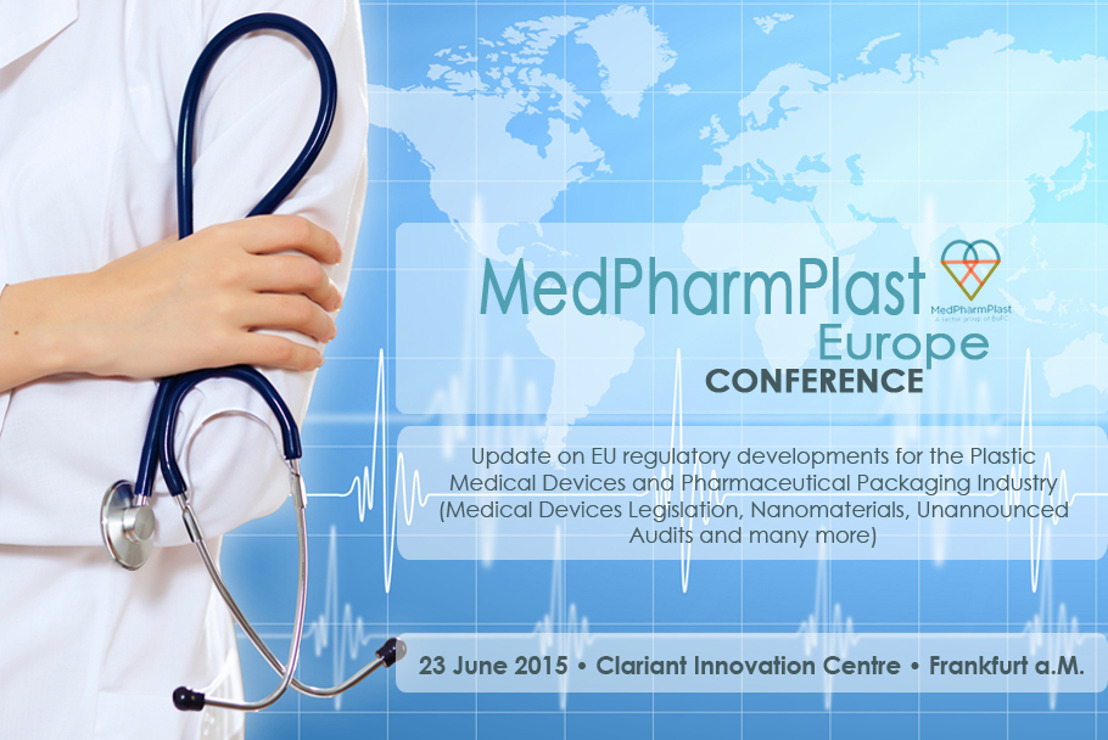 MedPharmPlast Europe Conference 2015 - GUARANTEE YOUR PLACE NOW
Stay up to date on the hot topics 2015 for our industry: Nanomaterials, Medical Devices Legislation, Unannounced Audits & many more
Thursday, May 28, 2015 —
Check our programme and register now for the MedPharmPlast Europe Conference on 23 June in Frankfurt at the Clariant Innovation Centre!
Interested? Then view the conference programme here.

We are delighted to welcome expert speakers from our industry. The conference will be all about the latest developments in EU regulations for the Plastic Medical Devices and Pharmaceutical Packaging industry. The presentations will focus on the hot topics for 2015: Medical Devices Legislation, Nanomaterials, Unannounced Audits, Endocrine Disruptors and Extractables & Leachables.
The participation is free of charge for MedPharmPlast Europe Members. Non-Members will be charged 250 Euro (excl. VAT)*.
If you are interested and would like to attend our conference, please register here. If you have any questions or would like to receive more information, please contact Eva Schneider, eva.schneider@medpharmplasteurope.org.
MEETING DETAILS
Meeting Venue:
Clariant Innovation Centre Frankfurt
Industriepark Höchst: Gebäude G 860
August-Laubenheimer-Strasse
65926 Frankfurt am Main, Germany
Meeting Date & Time:
Tuesday, 23 June 2015: 10.00 - 16.00
Hotel recommendation:
Lindner Congress Hotel Frankfurt
Bolongarostraße 100
65929 Frankfurt
Tel.: +49 69 33002-00
Fax: +49 69 33002-999
Email: info.frankfurt@lindner.de
Website: www.lindner.de/de/LCH
Dorint Hotel Sulzbach
Am Main Taunus Zentrum 1
65843 Frankfurt/Sulzbach (Taunus)
Tel.: +49 6196 763-0
Fax: +49 6196 72996
Email: info.frankfurt@dorint.com
Website: http://hotel-frankfurt-sulzbach.dorint.com/de
We are looking forward to welcoming you to our Conference in June.
Your MedPharmPlast Europe Team
*If your company decides to become MedPharmPlast Europe Member, the participation fee will be reimbursed on the membership fee.
Eva Schneider MedPharmPlast Administration at www.medpharmplasteurope.org